Another NFT project is coming under fire from the community, over what is being termed shady practices.
On Monday, 888 Project came under scrutiny for its high mint price for its Orbs NFTs, with many terming it a 'cash grab'. They were also accused of blocking or muting users who asked uncomfortable questions.
What is the 888 NFT Project?
This Project seeks to build a digital art marketplace. Dubbed 888 The New World, it was founded by anonymous crypto art collector 888.
According to the founders, the platform is built with artists' best interest, with a flat commission rate of 8.88%, compared to much higher rates by other platforms.
The marketplace will launch on the Flare Network, a blockchain built to provide robust functionality compared to Ethereum, with under 1% carbon emissions, and much lower gas fees.
What is the 888 Inner Circle?
The 888 Inner Circle project is the second project from the so called 888 ecosystem. It is a tokenized membership club, with a collection of 88,888 NFTs on the Ethereum blockchain.
Its members will receive several benefits throughout the 888 ecosystem, among them an exclusive chance to own and NFT from the special collection dubbed 'The Orbs'.
The Orbs is a collaboration between Gala Games and award-winning music composer BT. The collection has 3000 NFTs, of which 888 of them are reserved for the 888 Inner Circle members.
What's The Price of 888 'Orbs' NFTs
The 888 Orbs collection dropped on February 14, 2022.
First to go on sale were 2455 Orbs, which had a starting price of 11.11 ETH.
According to the team, the price would be reduced gradually until all Orbs were sold. The lowest price was initially set at 8.8 ETH, but that appears to have changed, because as of this writing, the price is 6.38 ETH.
Owing to the high price, uptake was very slow, with less than 0.1% sold after 24 hours. This is in stark contrast to other hyped collections, which often sell out in minutes.
The community was quite pissed once the mint price was announced.
"If anyone buys this absolute cash grab of a project from 888 tomorrow, you deserve to get wrecked. extracting 21k ETH in the name of "exclusivity, inclusivity and helping less fortunate artists" is utterly laughable. don't give your ETH to King Richard pretending to be Robin Hood," one Twitter user, @avarice_anon, tweeted.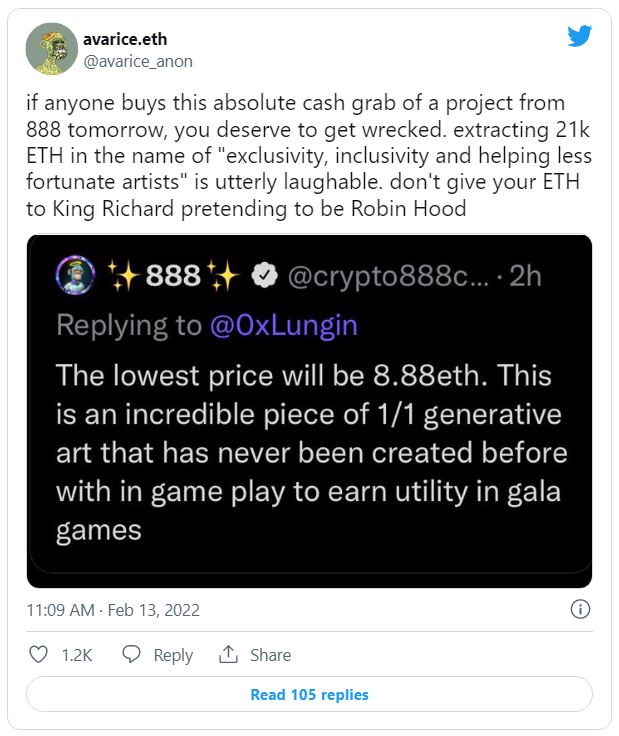 More members of the NFT community joined in with their own take.
"Can we please all agree as an nft community to not mint that 888 cash grab bullshit? I know y'all will sell it out, but please," @NFTwizzy tweeted.
Is 888 NFT Project a Scam?
While some were accusing the project of being a cash grab, others were outright calling it a scam.
A day after it went live, news that they were inflating their NFT sales broke, which only damaged the project's reputation.
On the purchase page, it was indicated that 44 NFTs were already purchased, but according to some observant Twitter users, that was simply false.
Twitter user @theycallmeshwaz was among the first to notice this, writing, "hmm showing 44 sales even though there have been no new mints on the contract. Also, the floor is 4.4 eth so that makes no sense. Did @crypto888crypto tweak the sales number to try to trick people into buying at this insane price?"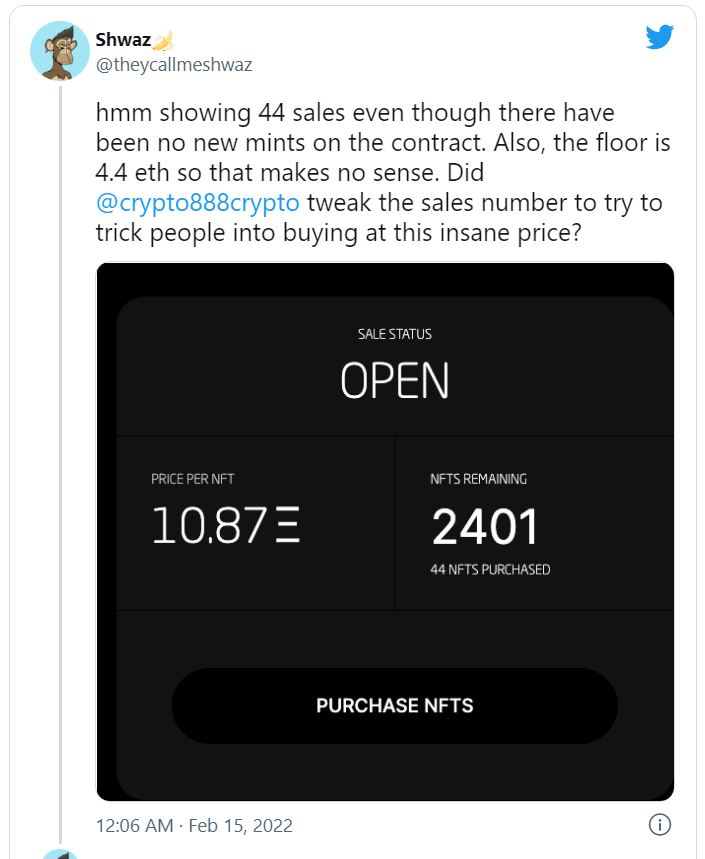 He/she also threw a jibe at the lack of sales and the quickly plummeting prices.
"Not only the greediest dutch auction of all time, but also the slowest. After 3 hours it's gone from 11.11 to 10.4. ZERO SALES which is unsurprising as the floor on OS is 3.99 and falling at about the same rate as the auction."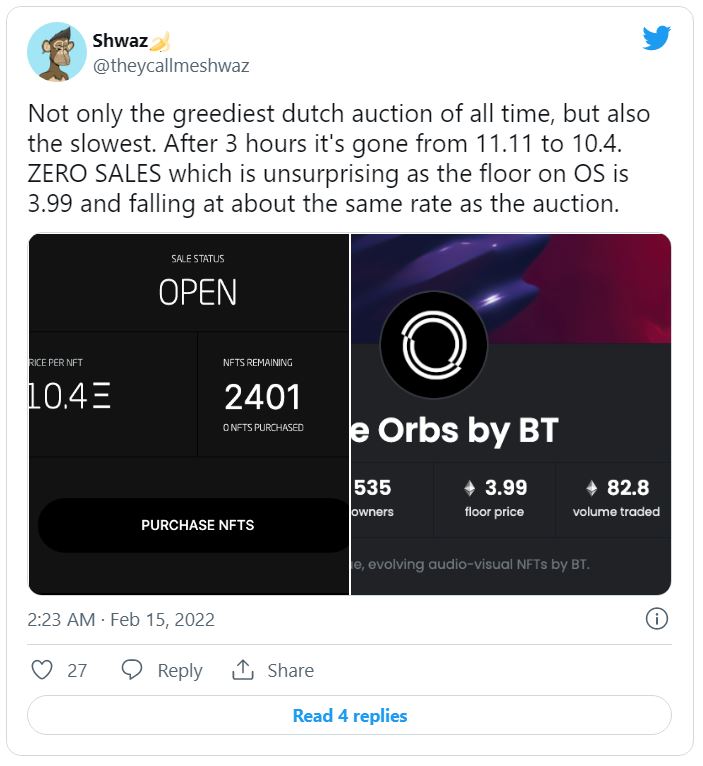 Another user, @WavexPirate, accused them of false advertising, writing, "The "44 NFTS Purchased" comes from the 44 extra that were minted through the burn mechanism yesterday. So no… 44 were not minted at 11.11ETH… very slick of them. Actually flirting with false advertisement because that 44 number only popped up post dutch auction starting."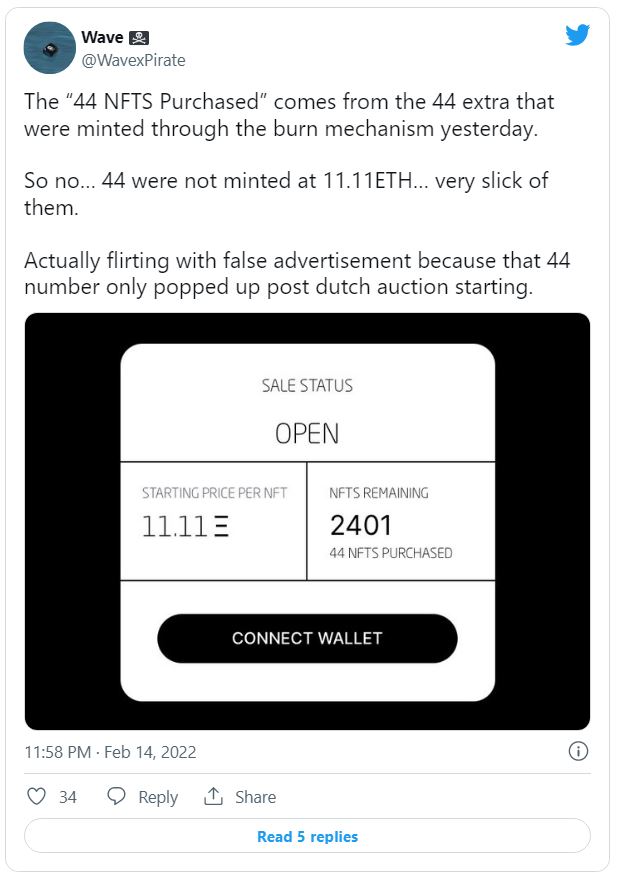 Hours after their inflated figures were pointed out, the purchase page dropped that number from 44 to 0. At the time of this writing, 3 NFTs have been purchased.
---
High mint prices, and low adoption aside, is the 888 NFT project a scam?
Certainly, many NFT influencers are leaning towards that direction. Twitter user @lurvli1 even did this thread listing all the red flags.
A project full of red flags (case study: inner circle pass).

my thoughts on one of the most recognized art collector in NFTs, 210K followers…lets call them 999.

I was a fan, held the project for 6+ mo. When he would jump into discords & grace us with his presence, community would go WILD. If he bought into a project, sales would fly.

He launched 8888 inner circle membership project (a NFT of his twitter) promising that "he will change 8888 people lives" with this. This gave access to free airdrops from artists he collects with ($5M volume traded to date). a few red flags…

History: prior to this project, he launched another project 'The New World' where famous artists were to be showcased. I don't think this project ever actualized..

Utility: since sept launch, theres been 3 airdrops, most of them now valued under $100.

Team: 2 of his core leaders abruptly left and were the face of the brand @karsendaily @Escapation

Roadmap + Execution: Partnership announced with Cool Cats never happened. Poor organization where a messy discord server had to be closed and we had to move to another one

Coincidentally when staking & fractionalized art was trending, another project was announced (We are Eternals) to stake ownership of his art collection.

The last announcement was in this new discord was in Nov and now, another membership project is launched to expand to 80K members that's distributed through 8 key realms (220E traded to date).

Surprisingly (or not) one of the realms is mark cubans backed project, NFT, that infamously shilled cash grabs + recently shut down.

There has been so little value provided to the current inner circle holders that to launch another membership for 80K is strange to me. The optics can show up as a cash grab.

If there was more solid plans before announcements were shared, there would be less overpromises & underdelivery as I've seen to date.

Based on these red flags, I've now sold all my passes as the values of the project don't feel aligned to me.

@lurvli.eth
Another Twitter account that addresses ethical issues in NFT collections also gave its take, coming just short of calling the project a scam.
"The below project minting today would rake in 21800-27275 ETH. Worst case: >$80 million. Scammers know that people are getting smarter by the day. So why not try it one more time in a big way? If they only mint out 10%, it's still an easy $6.5 million," @NFTethics wrote.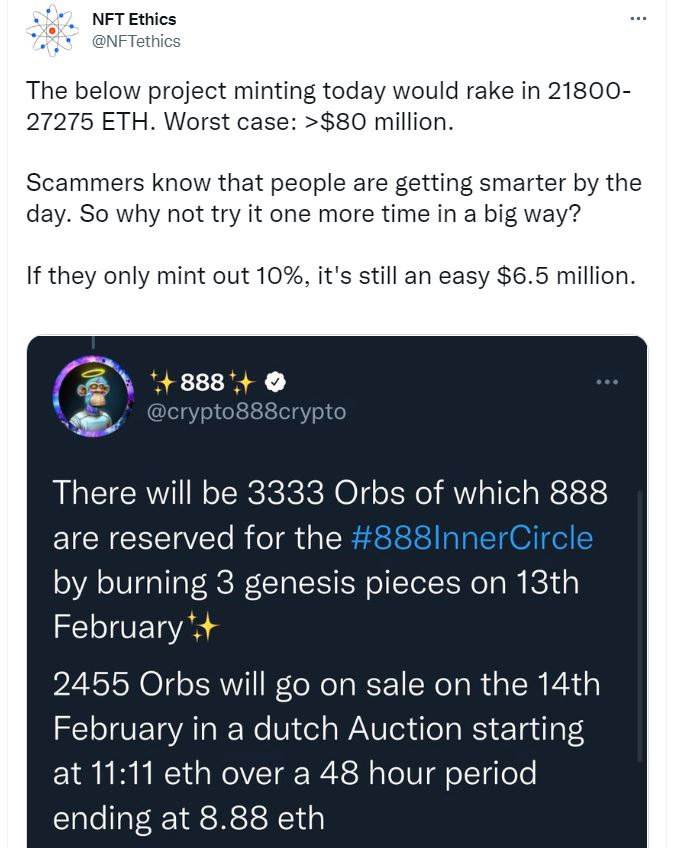 There is no unanimity over the nature of this project, but some knowledgeable people have seen enough to be skeptical.
It's association with big names like Gala Games and Paris Hilton only adds to the confusion.
However, at a such a high price tag, it is completely normal to check again.
We have previously addressed how to avoid an NFT rug pull, and you may want to check on that too.