In its war with Russia, Ukraine has found an unlikely ally in the NFT community.
Millions of dollars have been donated in either NFTs or crypto, and the figure keeps on rising.
One particular group that has been very helpful is the Bored Ape Yacht Club (BAYC) community. By Wednesday this week, wallets containing a BAYC or MAYC NFT had donated about $1 million in ETH to Ukraine.
Yuga Labs, the company behind the Ape phenomenon, has announced that they will be matching this donation as a show of solidarity.
"It's been inspiring seeing our community come together in support of Ukraine – almost $1m in ETH has been donated to @Ukraine by wallets containing a BAYC ecosystem NFT. Today we're matching that with a $1m ETH donation of our own," they tweeted.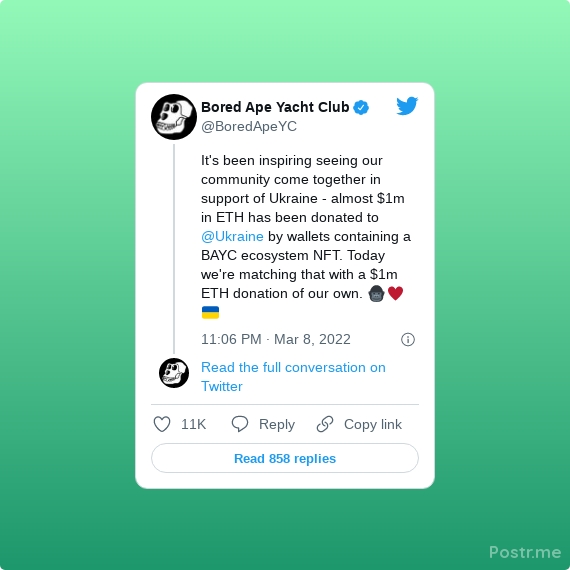 And to show that it was not an empty promise, BAYC linked to Etherscan, showing a transfer of 388.999 ETH, worth just over a million bucks.
Ukraine has so far received close to $90 million in crypto donations. About $7 million of that has come through the Ukraine DAO, raised through the auction of a Ukrainian flag NFT.