Although he is fully aboard the crypto train, the world's richest man Elon Musk sees no value in Non-Fungible Tokens (NFTs).
Yesterday, Twitter announced that they will start verifying NFTs for owners who want to display them as profile pictures. Upon connecting to an Ethereum wallet, the NFTs will be displayed on the profile picture as a hexagonal shape, unlike all other profile pictures that are usually in a round shape.
It is the giant social media's first venture into NFTs, something its former CEO Jack Dorsey was not a big fan of.
Jack, who was a good friend of Elon Musk, stepped down as Twitter CEO in November last year.
With his friend no longer at the helm, Musk now has the freedom to criticize things he does not like on the platform where he has 71 million followers.
And it appears that the NFT profile picture news irked him quite a bit. "This is annoying," he tweeted alongside a screenshot of the announcement.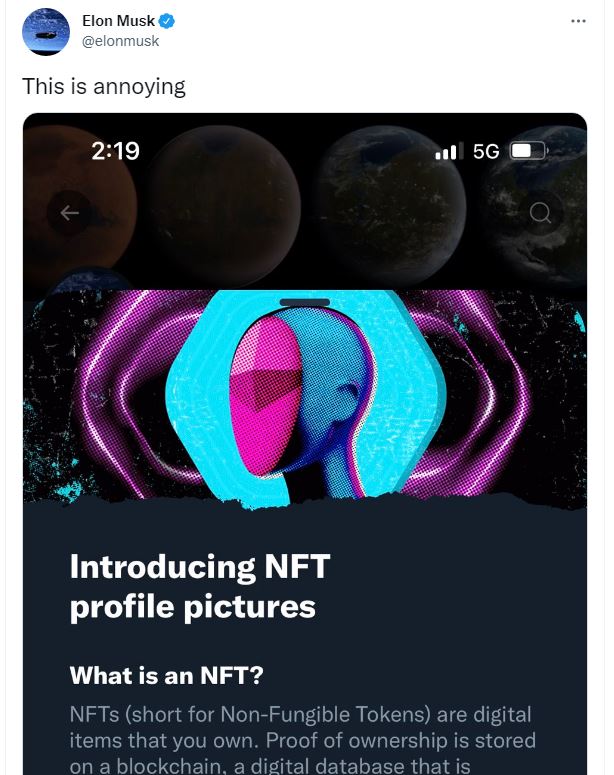 Musk's real issue with Twitter appears to be their priorities.
He wondered why the company is spending engineering resources on NFT 'bs', while there were other pressing matters like the constant stream of crypto scammers impersonating him and other famous individuals on the platform.
It remains to be seen whether Elon Musk will ever embrace NFTs, like fellow billionaire Mark Cuban recently did.