Another day, another NFT rug pull. This time the victims are holders of Balloonsville NFTs.
The Balloonsville NFT project was hosted on the Solana blockchain, with Magic Eden being the marketplace.
For a long time, it seemed like a legitimate initiative, calling itself "a community-driven NFT project that brings control back to holders on the Solana Blockchain."
Each balloon is unique and is randomly generated by over a hundred awesome traits, and gives holders the benefit of controlling the Balloonbank, the treasury wallet of the project, which also acts as a community wallet for holders to decide upon how the majority of the money made by the project is spent.

Balloonsville.
The project had grown organically accumulating a following of close to 24,000 on Twitter and a similar vibrant community on Discord.
Expectedly, the NFT drop was very successful. 5000 unique balloons reportedly netted the people behind it over $2 million in the SOL token.
As with other rug pulls, the people behind the scam have walked away with all the money, and deleted their Discord and Twitter accounts.
Theirs was however not a silent exit. Just before deactivating their Twitter account, Balloonsville made everyone know that they had just been scammed. On top of adding 'Rug' to their Twitter profile name, they made a series of tweets that left no doubt.
"All it took was a couple of paid actors, and boom, we did it again. y'all really believe anything nowadays," they said in their last tweet.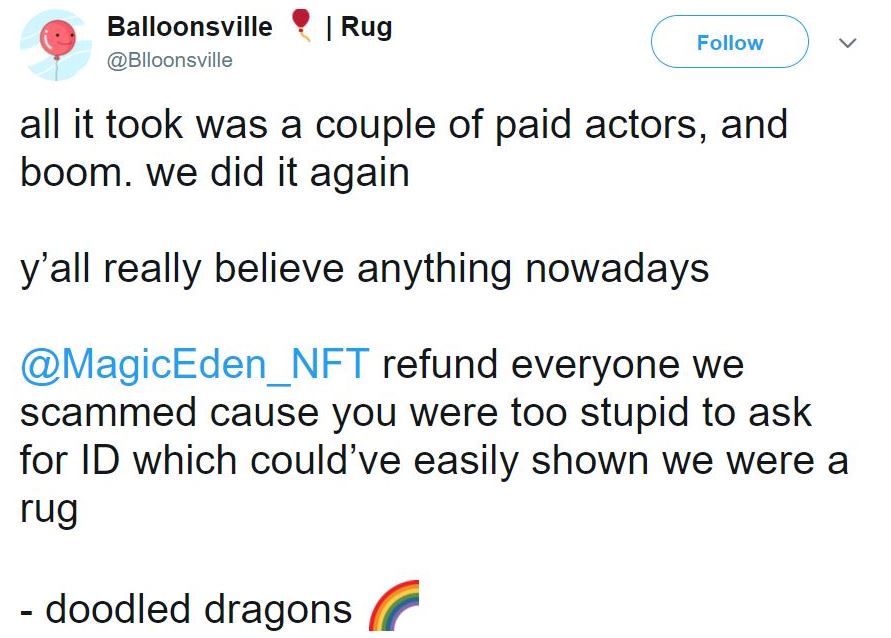 They also accused Solana Marketplace Magic Eden of greed and negligence. According to them, the platform did not even bother to verify their IDs, and never demanded proof of concept for their roadmap. Balloonsville urged the NFT community to boycott the platform.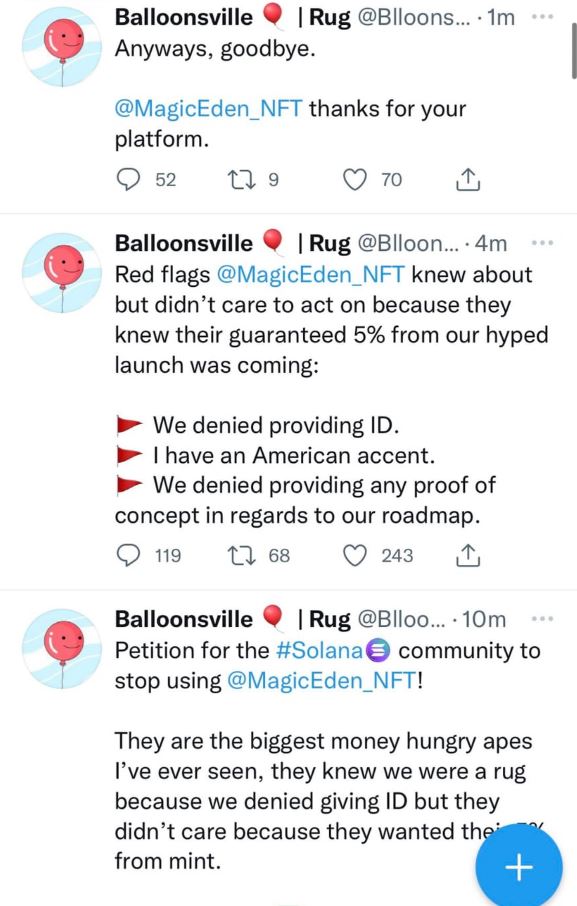 Magic Eden's Reaction to Balloonsville Rug
The platform which for all intents and purposes allowed this rug to happen, Magic Eden, has responded.
These are the actions they will take.
Owing to its huge community, Magic Eden will pick up the project and let it continue. They will offer 5,000 SOL from their reserves to fund its roadmap, with future royalties flowing into a different address, rather than the scammers.
Refund minters who sold below the floor price. An estimated 15% of sellers sold below the floor price, and they will receive the difference via an airdrop.
Those who wish to leave will be refunded their mint price.
Secondary buyers who later sold at a loss will not be refunded.
There is also a new community Discord where all the conversation will take place.
We'll certainly be keeping tabs on any new developments.