Behance, the digital art platform owned by Adobe, has added support for the Solana blockchain.
The company announced on Monday that users can now connect their Phantom wallet to their accounts, allowing them to showcase Solana NFTs on their profiles.
Phantom is a Solana wallet built for DeFi, NFTs and Dapps.
Until now, Behance users could only display Ethereum-based NFTs, but in recent months, Solana and other blockchains have been eating into Ethereum's market share, necessitating other platforms to add support.
Explaining this inclusion, Adobe Vice President in charge of Behance, William Allen revealed that energy consideration were a big part.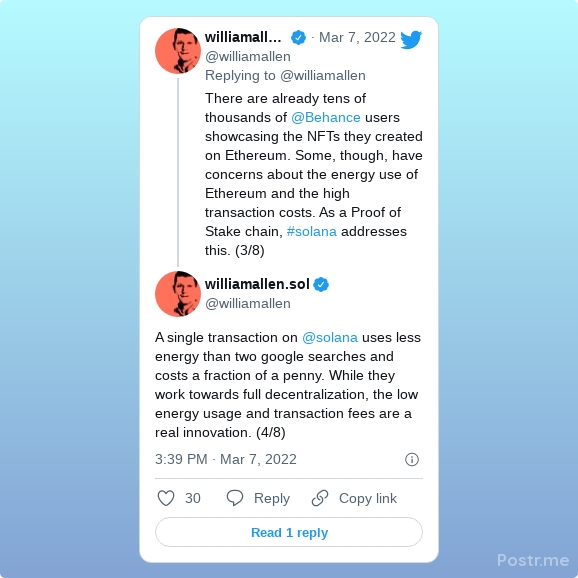 "Our mission at Behance has been steadfast for over a decade: help creatives build their careers on their own terms. Some choose to freelance, some want full-time gigs, some offer subscriptions, some sell templates, some livestream, and others sell NFTs.

Starting today, you can connect your phantom wallet and showcase the Solana NFTs you created on your Behance profile.

There are already tens of thousands of Behance users showcasing the NFTs they created on Ethereum.

Some, though, have concerns about the energy use of Ethereum and the high transaction costs. As a Proof of Stake chain, Solana addresses this.

A single transaction on Solana uses less energy than two google searches and costs a fraction of a penny. While they work towards full decentralization, the low energy usage and transaction fees are a real innovation."

William Allen, Behance
Phantom also echoed those remarks, saying that artists will now enjoy an eco-friendly and cost effective way to experiment with NFTs.
Behance was one of the leading platforms to let users connect their NFT wallets. They first enabled this feature in October 2021, almost 3 months before Twitter.
They also partnered with leading marketplaces, among them OpenSea, KnownOrigin and Rarible, for their 'Content Authenticity Initiative'. This was to protect digital creators from having their work ripped off.
Adobe added a 'credentials' tool in Photoshop, to ensure that proper credit is given to NFT artists.