One of the most popular NFT collections this year is the Karafuru collection.
The project was launched in early February, and has already seen some incredible trading volumes, becoming a major player in a very short period.
As of this writing, the trade volume stands at over 30K ETH, and the floor price 2.99 ETH.
What are Karafuru NFTs?
The Karafuru project is a collection of 5,500 NFTs in various unique forms. These NFTs are your ticket to "the world of Karafuru.. a magical space where colors reign supreme and everyone just wants to have fun.. a playground with the coolest crew in town."
The collection was created by 'Museum of Toys', a little-known organization based in Jakarta, Indonesia.
This is how they describe themselves on their website.
"Museum of Toys houses a great collection of designer toys from top local and international toy designers. The museum features the personal collection of Win Satrya, gathered over the course of 15 years. See how the artists breathe their own artistic styles and influence into toys. Discover how the street culture of hip-hop and skateboarding, surreal creations, street art and comic are blend into toys. It is art as you have never seen before. Experience it for yourself and be inspired."

Museum of Toys
The Museum of Toys teamed up with Indonesia-based artist, WD.WILLY, and the colorful collection is in line with his other works. His Tezos collection is strikingly similar in character.
There is also inspiration from Japanese cartoon characters, but not the anime type.
Other than that, the team has provided this colorful roadmap, which includes real-life events, merch, and partnerships.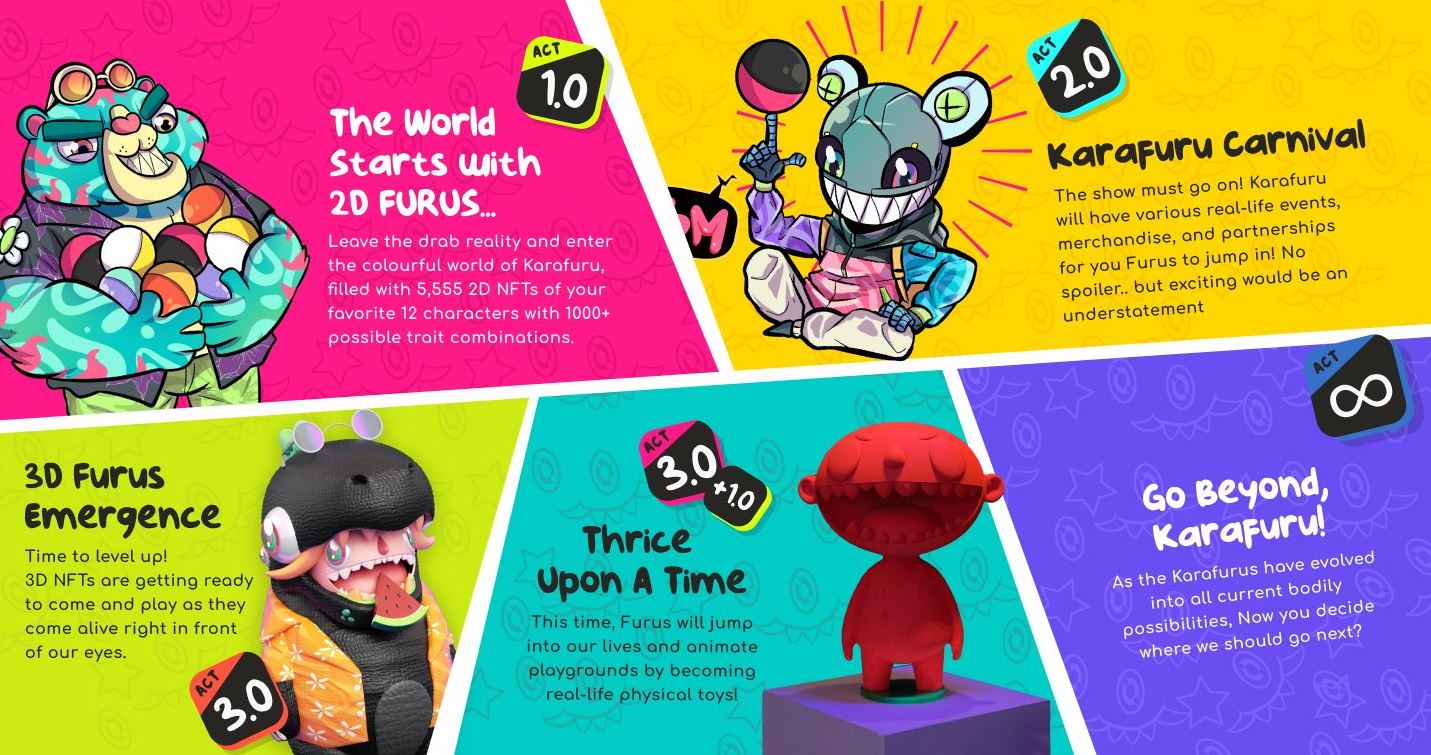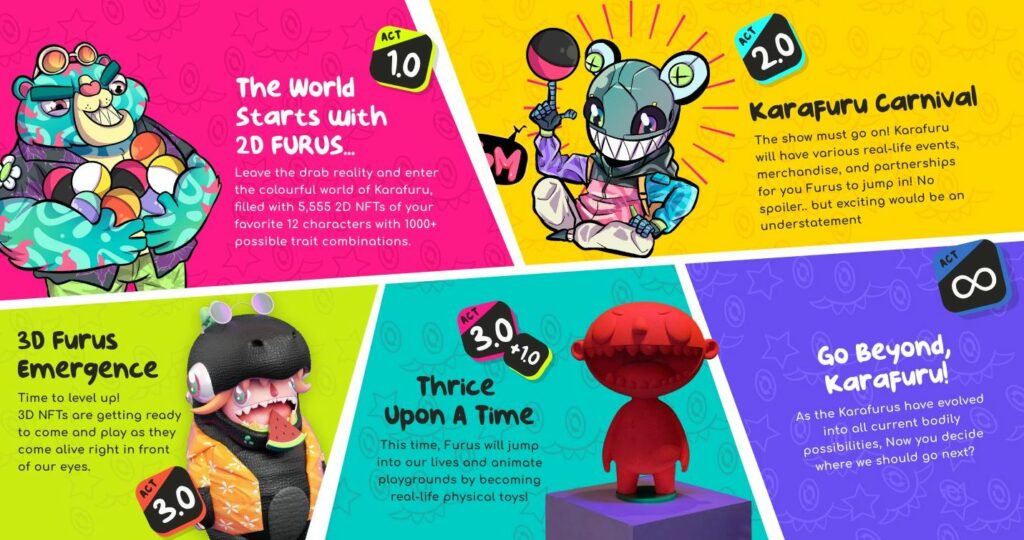 Karafuru NFTs Traits and Rarity
The Karafuru NFTs were generated from over 1000 possible trait combinations, featured on 12 different characters. Explanations and backstories of each character was provided on the community Discord server.
They come in different rarity, affected by things like background, headgear, base, eyes, mouth, skin, and traits count.
Rarity Sniper has categorized them accordingly.
What is Karafuru NFT Price?
The Karafuru collection has been very successful, and they couldn't have hoped for a better launch.
The collection launched with a 12 hour presale on February 4, followed by a public sale the following day.
The pre-sale price was 0.2 ETH, but the public sale followed a Dutch auction model (Price is reduced until a buyer is found). This started at 0.5 ETH, dropping by 0.25 ETH every 10 minutes until a minimum price of 0.2 ETH.
The collection sold out in minutes, and secondary sales have been through the roof.
As of this writing, the floor price is 2.99 ETH, and there are over 3,600 owners.
Those stellar numbers propelled Karafuru to the top of OpenSea 7 day rankings, and top 10 in the 30-day rankings.
For the all time rankings, Karafuru stands at no. 41 as of this writing, but it is climbing fast.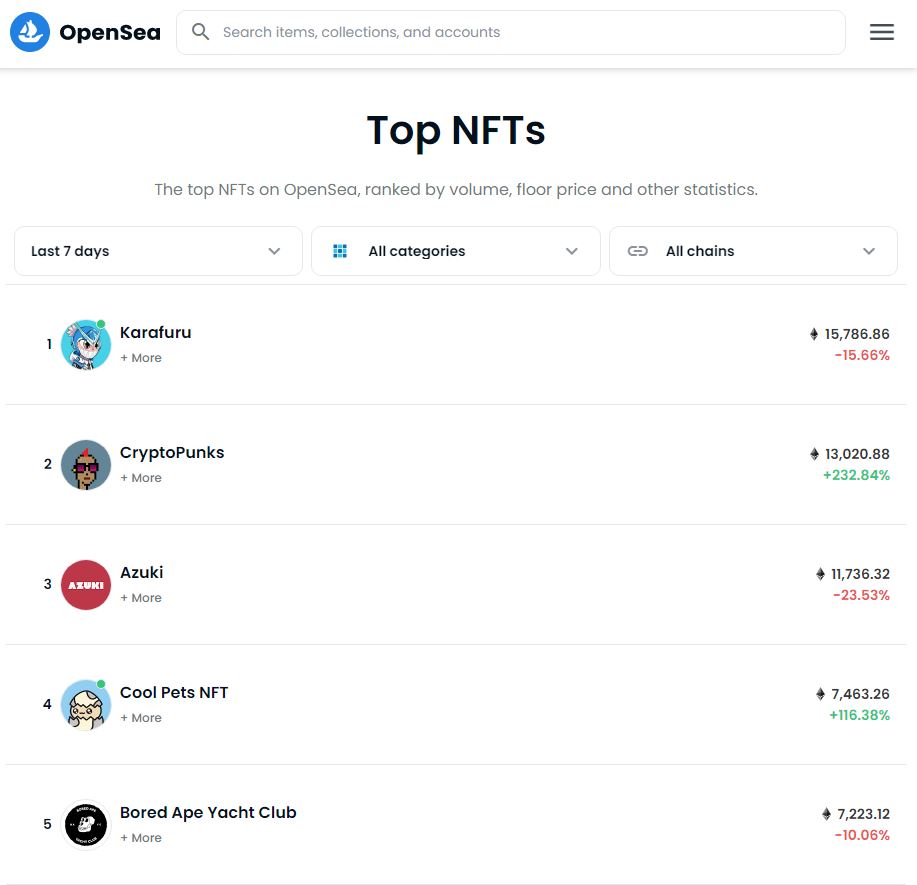 Is Karafuru NFT Collection a Scam/Rug?
By all indications, the Karafuru project is legitimate.
Although very little is known about the 'Museum of Toys', it appears thousands of people have faith in the project.
OpenSea and Looksrare have both verified it, which itself is something. Further, Karafuru has a massive community of 83,000+ Discord members, and that's a lot of people to fool.
We have previously written on ways you can avoid an NFT rug pull.