Decentralised applications, simply known as dApps, are applications built on the blockchain. They can be social networks, games, marketplaces and many more
Numerous blockchains, such as Solana, Ethereum, Polygon, and others, are available to launch your dApps on at the time of writing.
What makes dApps unique is that governments or even individuals do not control them since they function on a peer-to-peer network.
We've compiled a list of the most popular dApps in 2022.
7. Katana
Katana Inu is an open-world play-to-earn game with high-end graphics, lifelike images, playable 3D characters, and weapon models that can be minted as NFTs that promise to shake up the GameFi market.
Players may earn passive revenue through hunting, looting, and selling items on exchanges. On the other side, users can also compete in monthly tournaments.
The game has a four-stage development process, with the Beta version for PCs serving as the final milestone.
KATA is the game's native utility token based on the ERC-20 Ethereum token and the BEP-20 BSC token. It has a total supply of 50 billion at the time of writing.
Hotbit, PancakeSwap (V2), ZT, BitMart, and Uniswap are among the sites where you may purchase Kata.
6. OpenSea
In 2017, OpenSea was first introduced. An Ethereum-based NFT marketplace functions as a marketplace for non-fungible tokens produced on the blockchain to be listed and traded.
The platform hosts some of the most popular NFT collections, such as Bored Ape Yacht Club (BAYC), CryptoPunks, Decentraland's and The Sandbox's LANDs, and many more.
It's the ideal market for NFT artists who wish to mint and sell their items on the secondary market, with the possibility of income from subsequent sales.
The platform will enable you to earn up to 10% in creator earnings, which means you may earn up to 10% in royalties each time another person buys your NFT. On the other side, all transactions generate a 2.5 percent charge for the platform.
In other news concerning OpenSea
The polygon marketplace also allows gas-free transactions, which means that buyers don't have to pay fees for exchanges, and creators don't have to pay upfront costs when minting NFTs on OpenSea.
The OpenSea NFT trading mobile app is compatible with both iOS and Android smartphones and supports a variety of crypto wallets. For example, MetaMask, Coinbase Wallet, TrustWallet, Portis, and others are among them.
5. Axie Marketplace
Released in March 2018, Axie Infinity is one of the first play-to-earn games that allow users to earn a livable income by engaging in its economy.
To understand our previous definition Axie Infinity is a Pokemon-inspired game in which players gather Axies that makes the game interesting.
It is also the most popular Ethereum-based game DApp and the most popular gaming DApp in user numbers.
Axie Infinity Shards (AXS) and Smooth Love Potions (SLP) are the two significant tokens in the Axie Infinity ecosystem (SLP).
Both tokens are Ethereum-based ERC-20 tokens that a user may trade. The tokens may be used for various purposes, including staking rewards, Governance, and trading NFTS on the market.
The official marketplace for Axie Infinity Game is Axie Marketplace. You can quickly obtain Axies, Land, and several other commodities that you may utilize in the game via this marketplace.
The Axie marketplace is also a platform to sell your own Axies.
4. AtomicAssets
Launched in 2017, the Eos ecosystem started with primary two open-source asset standards (SimpleAssets and dGoods) to store it.
Both standards supported data as JSON strings that consumed a lot of disk space, slowing down transactions, among other flaws that made them unsuitable for more complicated dapps.
Eosio developed Atomic Assets to solve some of the other original two standards' issues. The most significant benefit of AtomicAssets is its RAM efficiency.
This implies that all assets have been designed to use as minimal RAM as feasible while maintaining usability. Consider the following scenario:
AtomicAssets: each asset is 151 bytes long, and each owner is 112 bytes long.
SimpleAssets: 276 bytes per item and 112 bytes each owner SimpleAssets: 276 bytes per asset and 112 bytes per owner
dGoods: 269 bytes per asset and 0 bytes per owner
As you can see, SimpleAssets and dGoods require a lot of bytes space which is not ideal for dapps.
To address the issues, AtomicAssets employs a bespoke data serialisation method that specifies the sort of data that you want your assets to include, resulting in assets that take up less space.
The AtomicAssets Presets save up to 70% more RAM by storing common data once by grouping comparable assets together.
AtomicAssets comes with a built-in implementation of two-sided trade offers, allowing you to create and accept offers with a single click. RAM rates on EOS are now $0.30 per kB at writing.
3. Alien Worlds
Launched in 2020, Alien Worlds is one of the blockchain ecosystem's fastest-growing NFT initiatives. It's a decentralized, non-fungible token metaverse where users fight for limited resources, such as Trillium, in a boosted economy centered on planetary planets.
Players can play-to-earn money for their efforts via gaming or involvement in other DAOs. By mining in the game, a player is rewarded with Trilium, the game's token or other valuable NFT packs.
The best part about Alien Worlds is that it enables holders of its Tokens to utilize it both within and outside of its virtual world, making it a worthwhile investment.
The TLM token's primary use case is Alien Worlds' key governance asset. You can vote in Decentralized Autonomous Organizations (DAOs) if you hold TLM tokens.
You can purchase TLM coins on Binance, Gate.io, CoinEX, Pionex, Bibox, Hotbit, and other exchanges. Finally, you can buy Alien Worlds on PancakeSwap, a decentralized exchange.
2. Splinterlands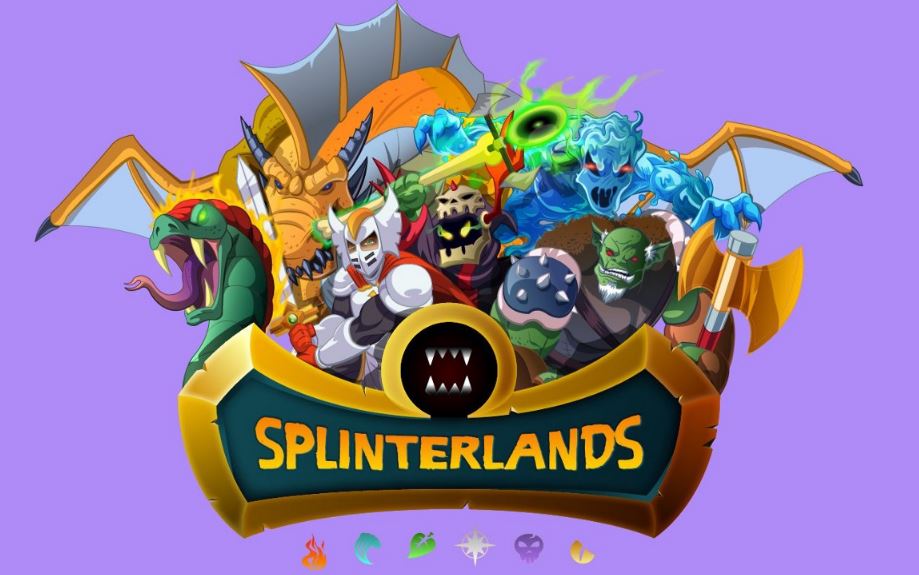 Splinterlands is the second-most popular game based on the WAX blockchain, released in March 2021. It works with Hive, a next-generation fast and scalable blockchain for Web3 and Metaverse applications.
Users can earn money on the platform by collecting, trading, purchasing, and selling these monetary-valued cards.
Splinterlands is unique in that unlike many crypto-based games, users can play the game on a mobile device or through a web browser. This means you can take these quick, furious, strategic fights with you everywhere you go.
The cards in Splinterlands are divided into two categories: summoners and monsters. When heading into combat, players may choose one summoner, which gives monsters perks.
Players may choose monsters from the summoners' deck. And after that, utilise seven elements in the game: Fire, Water, Earth, Life, Death, Dragon, and Neutral.
SPS is the platform's native utility token, and it serves as the platform's principal utility asset. On the other hand Dark Energy Crystals DEC) are the major prize in Splinterlands.
DEC have monetary value and can be purchased and sold using US dollars.
1. PancakeSwap
Launched back in September 2020, PancakeSwap is an automated market maker (AMM) – Decentralized Finance (Defi) platform that lets users trade tokens while also providing liquidity and earning fees.
Users may trade BEP20 tokens, offer liquidity to the exchange and earn fees, stake LP tokens to earn CAKE, stake CAKE to earn additional CAKE, and stake CAKE to earn tokens from other projects using PancakeSwap.
At the time of writing, the platform proposes reducing CAKE rewards on several farms by distributing them back across all other existing farms to allow more space.
More information can be found in the Twitter thread below
It is also a DEX based on the Binance Smart Chain (BSC), which promises quicker transactions and lower fees compared to DEXs based on Ethereum (ETH), such as Uniswap and 1Inch.
PancakeSwap does not take fiat currency deposits. Therefore, you'll have to buy cryptocurrency via an exchange that allows you to swap fiat currencies like USD and GBP with cryptocurrencies.
To start trading on PancakeSwap, you must first link your digital wallet, a straightforward procedure.
The PancakeSwap website has a set of guidelines for PC, iPhone, and Android that will enable you to link wallets like MetaMask to the exchange or build a new one.