On the International Women's Day, The Sandbox metaverse announced a major partnership with the NFT project 'World of Women (WoW)'
The Sandbox offered WoW a $25 million grant over the next 5 years to launch the WoW Foundation.
The WoW project, which lives on the Ethereum blockchain, aims to lower the barriers to entry into Web3 for women.
They are working to support artists by funding their projects, educating aspiring artist, raising the profile of women-focused causes and giving back to charity.
"Our mission is to highlight and lift up as many female and underserved creators as possible, making the metaverse not just a landscape designed by men but rather one enriched with as much diversity of thought as possible."

WoW
WoW will work with The Sandbox to create interactive experiences in the metaverse, among them a WoW museum, and the WoW University which will provide free training on how to get started on Web3.
A WoW Academy is also in the works, and this will be used to mentor and incubate ideas.
This is not the first dalliance between The Sandbox and World of Women. Just last week, the metaverse acquired the most expensive WoW NFT, Aurora, for 200 ETH. They christened her the 'goddess of The Sandbox'.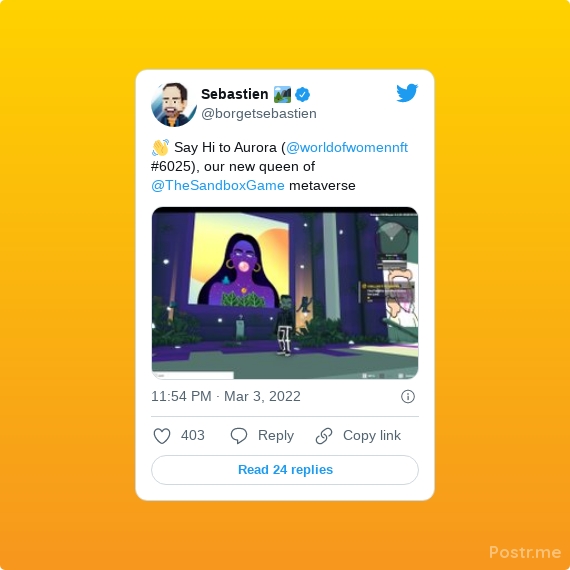 World of Women is one of the most traded NFT collections on OpenSea, with a volume of over 55,600 ETH. It ranks at position 21 at the time of this writing.